Super Moderator
City Watch
Jul 25, 2008
28,838
157
3,425
**Warning**
This thread is for discussing
The Amazing Maurice and His Educated Rodents
in some depth. If you haven't read the book then read on at your own risk – or, better still, go and read the book and join in the fun.
For those of us that are going to join in the discussion, here are a few guidelines:
Please feel free to make comparisons to other Discworld books, making sure you identify the book and the passage you are referring to. Others may not be as familiar with the book you are referencing, so think before you post.
Sometimes we'll need to agree to disagree – only Terry knows for sure what he was thinking when he wrote the books and individuals members may have widely different interpretations – so try to keep the discussion friendly.
We may be discussing a book that you don't much care for – don't be put off joining in the discussion. If you didn't care for the book, then that in itself is a good topic for discussion.
Please note: there is no time limit to this discussion. Please feel free to add to it at any time - especially if you've just read the book.
And finally:
Please endeavour to keep the discussion on topic. If necessary I will step in and steer it back to the original topic – so no digressions please!
*
*
*
*
*
*
*
*
*
The Amazing Maurice and His Educated Rodents by Terry Pratchett
Originally published 2001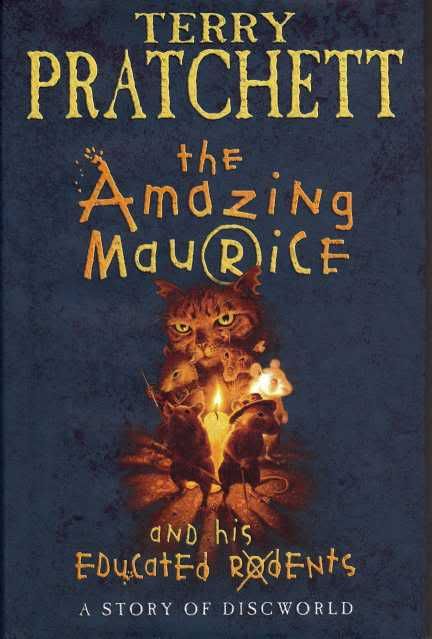 Introduction
Maurice, a talking cat and the talking rats have a plan. Using a stupid looking kid with a penny whistle they'll cause a plague of rats and then get paid to get rid of it. But when they try the trick on a town that has a sinister secret they get more than they bargained for.
--------------------------------------------
This is a book that just gets better and better. When you first read it you get an amusing story of talking animals getting the better of humans, but on subsequent readings you find a whole treasure trove of deeper meanings and allusions.
The idea for the book seems to have come from a throw away line in Reaper Man. Terry has taken that idea, built on it and produced an absolute gem of a book that deservedly won the
Carnegie Medal
in 2001 – a fact that Terry is justifiably proud of.
I'm looking forward to discussing this book, but let's start off by asking you what you thought of it. Did you like it? Did you hate it? Did you think it was ok? Tell us why.
Last edited: