Super Moderator
City Watch
Jul 25, 2008
29,251
231
3,525
**Warning**
This thread is for discussing
Equal Rites
in some depth. If you haven't read the book then read on at your own risk – or, better still, go and read the book and join in the fun.
For those of us that are going to join in the discussion, here are a few guidelines:
Please feel free to make comparisons to other Discworld books, making sure you identify the book and the passage you are referring to. Others may not be as familiar with the book you are referencing, so think before you post.
Sometimes we'll need to agree to disagree – only Terry knows for sure what he was thinking when he wrote the books and individuals members may have widely different interpretations – so try to keep the discussion friendly.
We may be discussing a book that you don't much care for – don't be put off joining in the discussion. If you didn't care for the book, then that in itself is a good topic for discussion.
Please note: there is no time limit to this discussion. Please feel free to add to it at any time - especially if you've just read the book.
And finally:
Please endeavour to keep the discussion on topic. If necessary I will step in and steer it back to the original topic – so no digressions please!
*
*
*
*
*
*
*
*
*
Equal Rites by Terry Pratchett
Originally published 1987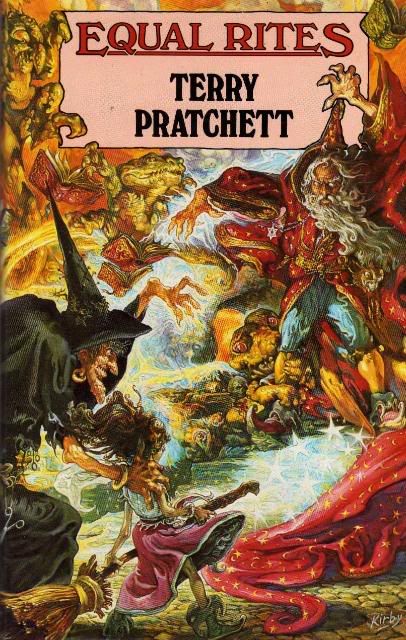 Introduction
When the dying wizard, Drum Billet, hands his staff to the newly born eighth son of an eighth son, he makes a slight error. Eskarina Smith isn't a son at all, but the damage is done and Esk has a destiny to fulfill. A life in Magic – but her magic is wrong for witches and the wizards won't have her.
--------------------------------------------
Terry says early in this book that it is a story about sex. He's right in more ways than one. It's also one of the earliest Discworld books and his first real attempt at comic satire rather than parody. The book has the debut of one of his most beloved characters in Granny Weatherwax. For those of us who read the books in order as they were published, the evolution of Granny seemed more subtle – but getting to know Granny and then going back to see this early draft is a bit unsettling. However, characters do develop and change and it's kind of nice to meet this version of Granny.
I think this book is underrated. It's heaps better than the first two and there's so much more depth – albeit, there's not the skill in writing that Terry shows in some of the later books. I guess Terry's writing developed as well.
But what did you think of it?